Why study law courses in Australia?
If you have a burning desire to stand up for rights and wrongs or build a sustainable legal fabric for civil society, then taking up law as a career is a prudent choice for you. As a lawyer, you can contribute to society by taking up pro-bono cases for the poor and underprivileged sections of society, fighting for social causes, and constantly upskilling yourself with the ever-evolving techno-legal challenges. In addition, globalization has brought the world together, where business deals are signed across countries, opening up opportunities in various sectors like mergers, acquisitions, negotiations, and dispute resolution. As a law aspirant, an international law degree opens up a large number of opportunities in the legal arena. If you are looking to pursue a law course, then look no further than Australia.
Australia is a highly sought-after destination for international studies due to its accessibility, safety, and excellent standards of international education. Studying Law Courses in Australia adds incredible value to students
Here are some reasons for you to study law courses in Australia
It allows you to become more analytical, think critically and help broaden your horizon. It also gives you a sense of having gained a valuable skill set, making it easier to find a good job and settle down as a resident in Australia.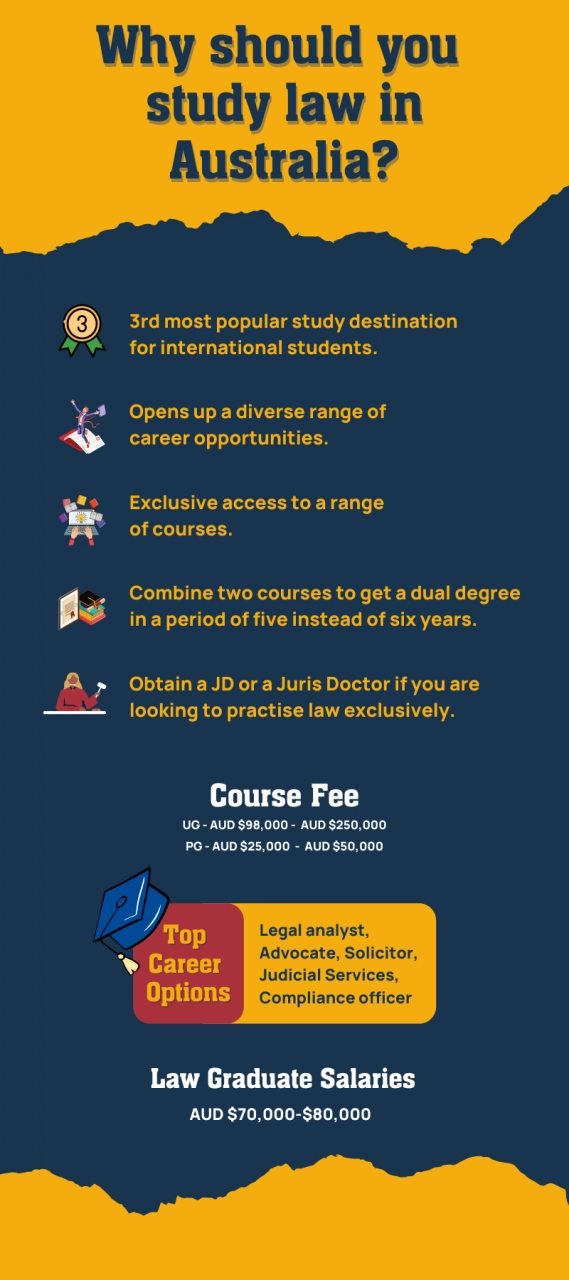 Professional training is imparted at an undergraduate level (LLB), often in combination with liberal arts or another degree, or as a graduate of another discipline (JD) that opens up avenues to practice law all over the world.
This professional training covers the core curriculum for accreditation purposes and the broader study of law. The LLB and JD are recognised not only in Australia for admission to legal practice, but also in some other countries as well
Best UG Law Courses in Australia
Associate Degree in Legal Studies
The Associate Degree of Legal Studies is a two-year program that provides students with a comprehensive understanding of the legal system. This course covers a broad range of topics, including torts, contracts, criminal law, and transnational law. The curriculum is designed to give students the practical skills and knowledge needed to function effectively in the legal field. However, it is not a bachelor's degree.
Bachelor of Laws in Business Management
With this course, you will gain an advanced understanding of legal principles and be well-equipped to tackle any legal challenge that comes your way. The opportunity to experience an industry or clinic placement, undertake a law reform project or conduct high-level research in your final year will give you a competitive edge in the job market. The legal Advice Clinic would help you to gain valuable experience solving the real-world legal problems of clients under the guidance of a managing solicitor. You'll also learn about modern management, where you will get experience organising teams, money and technology.
Bachelor of Commerce and Bachelor of Law (Conjoint)
A BCom/LLB allows you to complete two degrees in less time, with fewer points than it would take to complete the two degrees separately. A BCom/LLB graduate is armed with a skill set that meets high demands no matter what career path they choose.A double major will give you a broader set of skills and make your resume more impressive, which increases the number of career options available to you.
Best PG Law courses in Australia
Master of International Law
The Master of International Law will help lawyers, legal educators and judges better understand international law. It may help non-lawyers in the financial sector, diplomacy and education who often have to deal with foreign laws and understand and use international law principles. Students will master complex legal concepts and gain invaluable work experience in the field of international law.
Juris Doctor in Law
The Juris Doctor degree prepares students for a legal career, both domestically and abroad. It is an alternative to a Bachelor of Laws for those who want to follow an undergraduate degree in any major. The Juris Doctor provides students with a rigorous academic foundation in multiple disciplines, including the opportunity to choose from multiple law elective classes and specializations. The curriculum includes the study of legal ethics, case preparation, research skills, procedural analysis and negotiation methods for addressing ethical dilemmas in law school settings as well as real-world practise within professional contexts such as court cases and corporate compliance situations from industry leaders.
Top 3 Universities to study law in Australia
Monash University
A public university based in Melbourne, Monash is the second oldest university in the state. The Monash Law school is a major research and teaching centre located on the campus. Monash ranks 58th in the QS World rankings for universities in the year 2022. If you undertake a law degree in Monash, you will pass out with analytical and critical thinking skills, experience in legal research and a thorough tenure at a legal clinic to gain practical skills and hone your legal acumen.
University of Australia
The University of Southern Australia is ranked No.1 in South Australia for law careers and graduate success. At completion, you'll learn how to work in a team or on your own while developing professional judgement that will prepare you for a dynamic and rewarding career as a lawyer. You will be learning from some of the world's top legal researchers, and you can also select an industry or clinic placement, or even work on a law reform project during your final year.
RMIT University
A law degree at RMIT will help you gain an understanding of the perspectives that make up contemporary Australian and international society. You can learn how policies are formed, and get the technical skills needed to administer justice. You'll be ready to meet the challenges of an ever-changing legal system and answer new societal challenges when you study at RMIT. With a Bachelor of Laws under your belt, you'll have plenty of diverse career options open to you
Studying law courses in Australia opens up a plethora of opportunities for you in the legal arena. You can practise law anywhere in Commonwealth countries with a JD or enter the corporate arena with an LLB degree. To start with, you can explore our Course search here to know more about the options available to you as a law aspiring student.