Bachelor of Business Administration (BBA)
 at a reputable university abroad is a perfect roadmap for Nepalese students dreaming of having a successful corporate career overseas.
BBA full form is Bachelor of Business Administration.
 BBA course deals with knowledge and training in management and administration of business by imparting managerial and entrepreneurial skills to management aspirants from any stream like Science, commerce, or arts.
Holding a degree in business administration offers many practical benefits, both in terms of education and potential career opportunities. For those who have obtained a BBA, the job market offers an array of positions that offer attractive salaries. 
Let's take a closer look at the BBA programme.
| | |
| --- | --- |
| Particulars | Details |
| Course name | BBA |
| Full form | Bachelors of Business Administration |
| Course level | Undergraduate |
| Types of BBA | General BBA, Specialised BBA, Executive BBA, Online BBA |
| BBA admission process | Entrance-Based and Merit-Based |
| Top BBA specialisations | Banking and Insurance, Finance, HR, Marketing, Foreign Trade |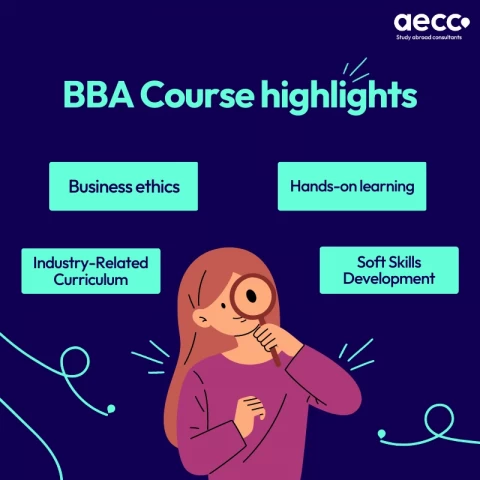 Business ethics: Students are instructed on the value of moral conduct in the workplace, including CSR, sustainability, and moral decision-making.
Industry-related curriculum: BBA programmes are made to adapt to the shifting business environment, and students are taught skills that are pertinent to the demands of the market today.
Hands-on learning: Case studies, project work, internships, and other hands-on learning opportunities are frequently included in BBA programmes to prepare students for the real world.
Soft skills development: BBA programmes place a strong emphasis on helping students improve their interpersonal, teamwork, communication, and presentation skills, all of which are crucial for success in any business field. 
| | |
| --- | --- |
| BBA Programme Components | |
| Business Ethics | Moral conduct, CSR, sustainability, and moral decision-making |
| Industry-Related Curriculum | Skills pertinent to today's business demands |
| Hands-On Learning | Case studies, project work, internships, and other real-world experiences |
| Soft Skills Development | Interpersonal, teamwork, communication, and presentation skills |
BBA Admission Process:
There are specific procedures and prerequisites for applying to a Bachelor of Business Administration (BBA) programme, albeit these can change based on your institution. These are some general recommendations to give you an idea of what to anticipate: 
BBA Entrance Procedure:
Entrance exam: The majority of universities and colleges demand that applicants take an entrance exam, which may include multiple-choice questions on topics including English, maths, reasoning, and general knowledge.
Selection process: Colleges may perform a selection procedure following the entrance exam, which may involve a written examination, group discussion, and personal interview. Academic achievement, extracurricular involvement, and professional experience may also be taken into account by some universities throughout the selection process. 
BBA requirements:
Students must have received a score of at least 50% in their 10+2 or equivalent from a recognised board to qualify for admission. Certain subject requirements may also apply at some institutions or colleges.
Age requirements: Students must be between the ages of 17 and 25 to enrol in a BBA programme, while specific age requirements vary from university to university.
Because the programme is taught in English, most colleges require students to have a strong command of the language. A test of English language competency, such as the TOEFL or IELTS, may be required of students.
It may be important to have work experience or extracurricular accomplishments in order to be admitted to specific institutions or colleges. It is important to note that while job experience is not a requirement for the BBA, it is taken into consideration when evaluating applicants who do not meet the standard entry requirements.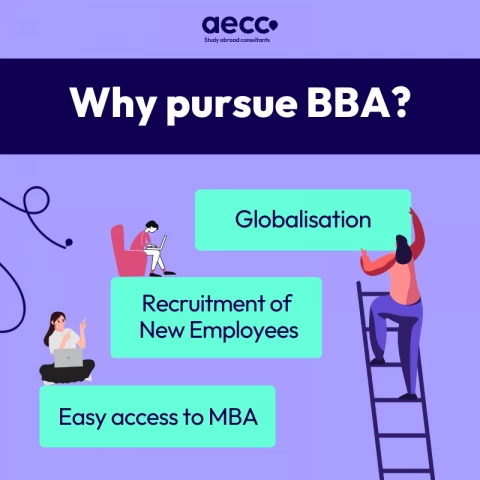 One of the best business degrees one can obtain is the Bachelor of Business Administration (BBA). It is perfect for college students who want to work in business or management after graduation.
The following are some of the factors that contribute to the popularity of BBA:
Globalisation: Thanks to advances in global travel and communication, we now have access to a wealth of opportunities around our planet. This has given rise to international markets, growing companies, and a surge in demand for skilled management professionals with qualifications like a BBA. Whether it is in finance or digital marketing, graduating with a BBA degree gives you ample opportunity to find top-notch employment abroad.
Recruitment of new employees: The most powerful nations in the West are eager to hire foreign talent. However, they also search for strong credentials. Therefore, their game-changing companies are interested in BBA graduates from reputable universities. Candidates who have earned a BBA degree abroad can find employment with major international conglomerates and businesses like Amazon, Citigroup, Standard Chartered Bank, Deutsche Bank, etc. That's exciting, don't you think?
Easy access to MBA: One should take into account the advantages of a BBA for your profession and how it boosts your chances of getting into an MBA, given how well-known MBAs are and how many individuals apply each year. It goes without saying that a BBA is not a prerequisite for a master's in business, but if an MBA is your ultimate aim in life, a BBA is an ideal place to start.
Skillsets Required for Pursuing BBA:
The Bachelor of Business Administration (BBA) seeks to give students a solid foundation in business management and administration. Students should have the following skills in order to excel in their BBA studies:
Critical and analytical thinking: These are skills that BBA students must possess in order to analyse complicated issues and come up with innovative solutions.
Communication skills: It's crucial to be able to communicate well in the business world, thus BBA students should be able to do so both orally and in writing.
Time management: BBA students need to balance their academic workload with extracurricular activities, internships, and other commitments. Effective time management skills can help students meet their deadlines and achieve their goals.
Leadership skills: BBA students should develop leadership skills, as they will be responsible for managing teams and projects in their future careers.
Numerical ability: BBA students should be good with numbers and possess basic mathematical and statistical skills. 
Types of BBA:
BBA programmes come in a variety of forms to accommodate the various needs and preferences of students. While some programmes provide a general education in every aspect of business, others are specialist and emphasis on a particular field of study. The many BBA programmes that the universities offer include the following:
General BBA: This is a broad-based BBA programme that covers all aspects of business management.
Specialised BBA: This type of BBA programme focuses on a specific area of business, such as marketing, finance, human resources, international business, entrepreneurship, or accounting.
Integrated BBA-MBA: Some universities offer a combined BBA-MBA programme that allows students to earn both degrees in five years.
Online BBA: This type of BBA program is delivered entirely online, allowing students to complete their coursework from anywhere.
Executive BBA: This type of BBA programme is designed for working professionals who want to advance their careers while continuing to work.
Dual-degree BBA: Some universities offer a dual-degree BBA programme that allows students to earn two degrees simultaneously, such as a BBA and a Bachelor of Arts in a related field.
Accelerated BBA: This type of BBA programme is designed to be completed in less than four years, allowing students to earn their degree more quickly.
BBA Topics and Syllabus:
Semester
BBA subjects
Semester 1
Financial Accounting
Micro Economics
Principles of Management
Quantitative Techniques
Semester 2
Macroeconomics
Environmental Management
Marketing Techniques
Business Analytics
Semester 3
Direct and Indirect Tax
Banking and Insurance
Human Resource Management
Introduction to Operations
Research
Semester 4
Financial & Management Accounting
Business Laws
Personnel Management & Industry Relations
Leadership and Ethics
Semester 5
Strategic Management
Financial Management
Production & Material Management
Business Data Processing
Semester 6
Introduction to Psychology
Export/Import Management
Consumer Behaviour
Financial & Commodity
Derivatives
When pursuing a BBA, there are a wide range of specialisations to choose from. Institutions across the country offer different fields such as banking, finance, human resources, and healthcare management. The choice made by the student will determine their subject and potential future career field. Here are some of the most popular BBA courses: 
| | | |
| --- | --- | --- |
| BBA Specializations | BBA Specializations | BBA Specializations |
| BBA Finance | BBA in Banking & Insurance | BBA Information Technology |
| BBA Human Resources | BBA Marketing | BBA Communication & Media Management |
| BBA Foreign Trade | BBA Hospitality & Hotel Management | BBA Hospital & Healthcare Management |
Top UK universities for BBA:
| | | |
| --- | --- | --- |
| Name of university | Language proficiency test | Minimum 12th score |
| University of Manchester | IELTS, PTE | Minimum 80% |
| King's College London | IELTS, PTE | Minimum 80% |
| University of Oxford | IELTS, PTE | Minimum 90% |
| Coventry University | IELTS, PTE | Minimum 78% |
| Loughborough University | IELTS, TOFEL, PTE | Minimum 78% |
Top Australian universities for BBA:
| | | |
| --- | --- | --- |
| Name of university | Language proficiency test | Minimum 12th score |
| The University of Queensland | IELTS, TOEFL, PTE | Minimum 60% |
| The University of Sydney | IELTS, TOEFL, PTE | Minimum 70% |
| Monash University | IELTS, TOEFL, PTE | Minimum 60% |
| James Cook University | IELTS, TOEFL, PTE | Minimum 60% |
| Victoria University | IELTS, TOEFL, PTE | Minimum 65% |
BBA scope: Job profiles and Top recruiters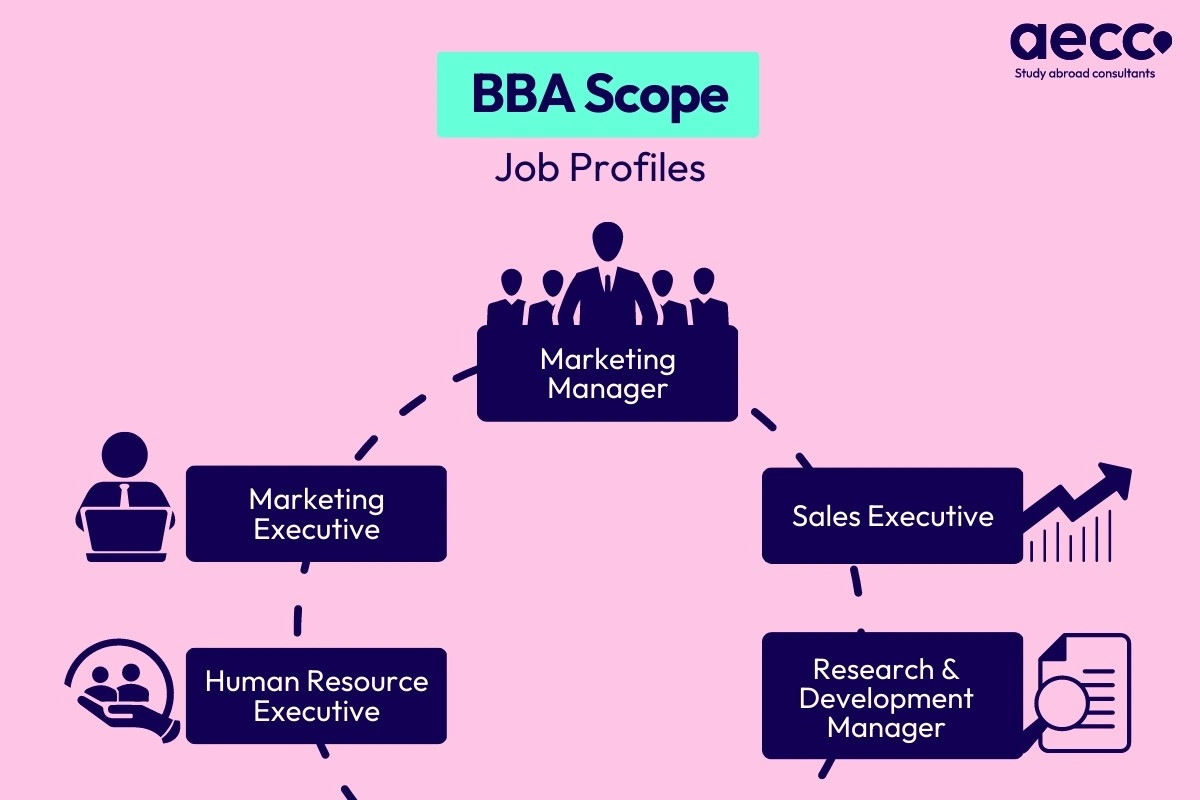 There are many options available after earning a Bachelor in Business Administration. Exploring chances in other sectors is an alternative to earning an MBA. These span a variety of industries, such as finance, manufacturing, government, property management, business consulting, and urban infrastructure.
The following are well-known employment paths that graduates with a BBA may want to explore:
Human Resource Executive
Marketing Executive
Marketing Manager
Sales Executive
Sales Executive
Research and Development Manager
Top BBA Salaries in UK and Australia:
That's a topic everyone wants to know, right? Keep reading for all the deets:
According to a recent report from HESA, six months after graduation in 2020, business and administrative studies graduates, including those with BBA degrees, had a median pay of £24,000.
According to PayScale, BBA graduates in Australia can expect to make an average salary of about AU$62,000 per year. It's important to keep in mind that this number could vary greatly based on the sector and location. For example, if a BBA graduate accepts a position in finance in Sydney, their pay may be higher than that of a person with comparable credentials working for a non-profit organisation in a remote location.
A BBA degree from a prestigious international university can really take your career to the next level, not to mention the attractive salary packages that come with getting a BBA.