Natural beauty, multiculturalism, and a high quality of life — student life in Canada is a beautiful mix of all this and much more. By being an international student in Canada, you have so much to discover and learn from.
In this blog, we will cover amazing perks of living and studying in Canada as an international student.
Are you hooked? Let's explore! 
Table of Contents
Cultural diversity:
Canada is called the "boiling pot of all cultures" for a good reason. With its history influenced by French, British, and American traditions, Canada provides unparalleled cultural exposure to students and residences.
The prime example of this can be found in the distant food tastes, starting from poutine to the very famous Canadian maple syrup. And just wait till you try the smoked meat and bagels that delights the taste buds of various communities across the country.
Drooling, aren't you?
Nevertheless, beyond cuisine, Canada is also celebrated for its stunning array of cultural and ethnic diversity.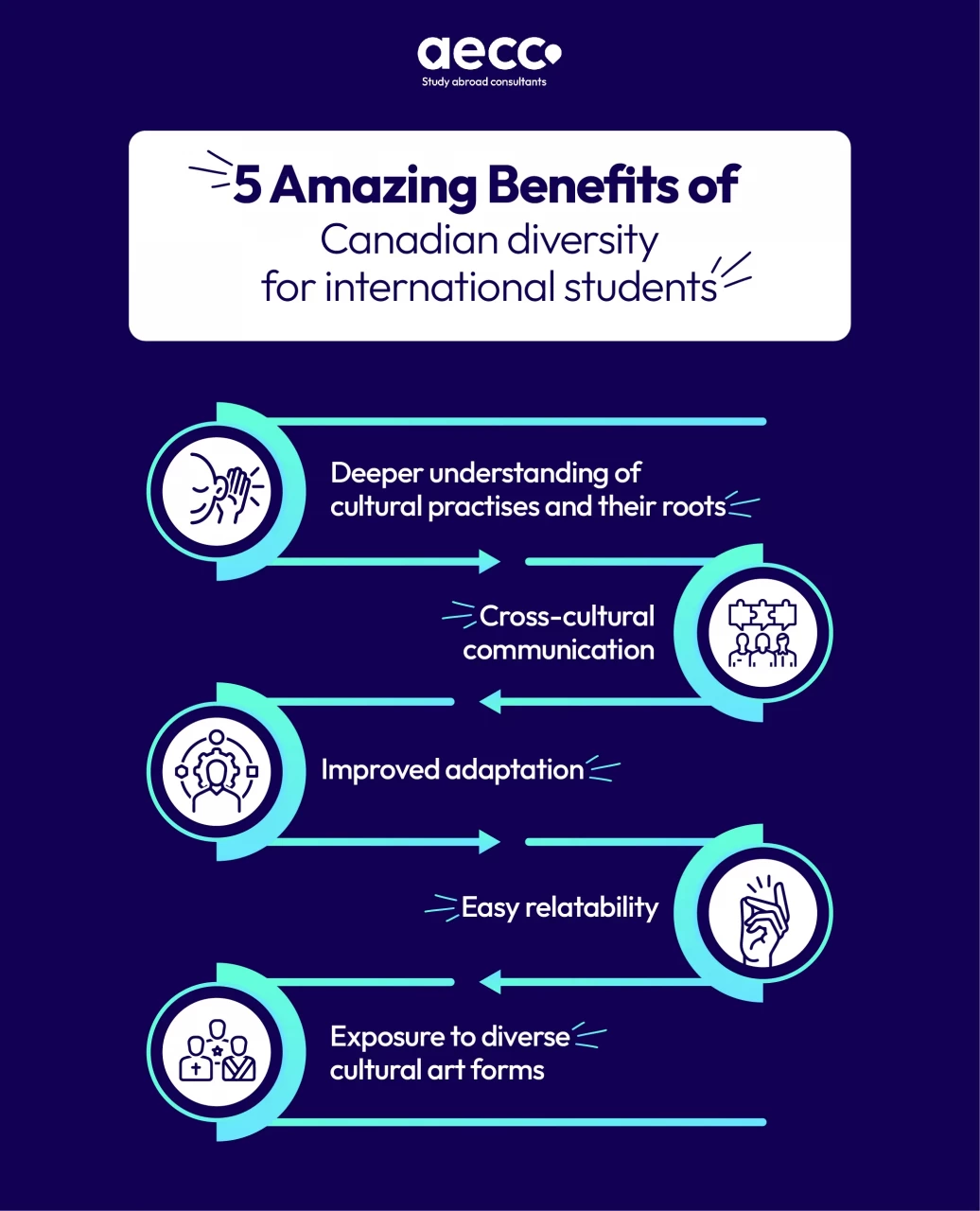 Campus life in Canada:
For those who are thinking of relocating to another country, safety is often a major concern. Fortunately, the answer lies on Canadian university campuses, as per a survey conducted by the Canadian University Survey Consortium. 95% of students expressed feeling safe on campus.
When compared to other study destinations, campus life in Canada offers a number of advantages, including:
Amazing on-campus housing facilities like traditional residence halls and apartment-style housing, offering pleasant conveniences.
Canadian universities are equipped with well-stocked libraries that provide students with access to a wide range of books, journals, and other academic resources.
Fitness centres — now that's a big win, isn't it? Universities in Canada have on-campus fitness centres open to all students at any given time.
Apart from fitness centres, students will find a range of useful resources and services like study spaces, study rooms, an on-campus food facility, and much more.
As a student, you will have access to cutting-edge research facilities available on campus. 
Are these points ticking the boxes of your dream study destination? Wait until we tell you about a legion of recreational activities in Canada for international students: 

Recreational Activities in Canada:
The biggest perk of studying abroad is to explore the world and gain new experiences. Canada provides a multitude of diverse activities that can help broaden one's horizons and provide lasting memories.
Here are few examples of these activities:
Skiing and snowboarding in the winter.
Hiking and camping in the summer.
Exploring national parks, such as Banff and Jasper.
Visiting cultural and historical sites, such as the Canadian Museum of History and the CN Tower.
Participating in sports and fitness activities, such as ice skating, swimming, and yoga.
Attending festivals and events, such as the Toronto International Film Festival and the Calgary Stampede.
Trying local cuisine and visiting farmers' markets.
Joining clubs and groups on campus, such as intramural sports teams or language exchange programmes.
Working and studying in Canada as an international student:
For those on a budget, there is a silver lining: international students studying in Canada are eligible for part-time employment. The weekly restriction for this type of work is 20 hours.
However, you can opt for full-time roles during summer and winter breaks.
And the best part — the generous minimum wage makes working and studying in Canada a worthy affair!
Here are the minimum wages in Canada as per the territory: 
| | |
| --- | --- |
| Province/Territory | Hourly Wage |
| Alberta | $16.00/hour |
| British Columbia | $15.20/hour |
| Manitoba | $12.90/hour |
| New Brunswick | $12.75/hour |
| Newfoundland and Labrador | $13.75/hour |
| Northwest Territories | $15.00/hour |
| Nova Scotia | $12.95/hour |
| Nunavut | $16.00/hour |
| Ontario | $15.00/hour |
| Prince Edward Island | $14.00/hour |
| Quebec | $13.50/hour |
| Saskatchewan | $11.96/hour |
| Yukon | $15.20/hour |
Post-work visa rules in Canada:
Eligible students who have recently graduated may be able to benefit from a Post Graduation Work Permit (PGWP), which would allow them to stay in Canada for a period of up to three years.
To gain access to this opportunity, they must have completed an 8-month study program on a full-time basis while also maintaining their student status during that time frame. 
Expenses in Canada:
Affordability is a key factor that makes Canada an attractive study destination.
For an idea of the financial outlay for Nepalese students studying in Canada, below are some average costs to consider: 
Tuition fees: The cost of attending a Canadian university can vary significantly. For instance, depending on the program and educational establishment, an undergraduate degree may set you back anywhere from CAD 10,000 to CAD 60,000 annually. University of Toronto charges between CAD 46,680 and CAD 58,680 per annum for international students while those at the University of British Columbia pursuing a graduate program in business must pay around CAD 53,000 each year.
Living expenses: It is worth noting that living costs in Canada can be quite dissimilar according to geography and an individual's habits. Generally, international students should plan to fork out anywhere from CAD 10,000 to 15,000 annually for their daily needs - this includes housing, meals, travel expenses as well as other discretionary spending.
Health insurance: When coming to study in Canada, it is essential for all foreign students to ensure they have adequate health coverage. The cost of obtaining health insurance depends on the area of residence; however, typically it will range from CAD 600 up to CAD 1,000 annually.
Other expenses: In addition to tuition costs, prospective global students should consider additional expenditures such as textbooks, class supplies, and extracurricular pursuits. All of these can add up quickly and must be taken into account when creating a budget.
Are you considering studying in the great nation of Canada? Sure, it can get cold here - but that's nothing a warm coat and some delicious ginger tea won't handle! But the real beauty of this country is its unique lifestyle, which offers boundless options. Areas such as Southern Ontario and British Columbia offer mild climates compared to much of the nation. So why not come join us in experiencing all that our fantastic land has to offer?